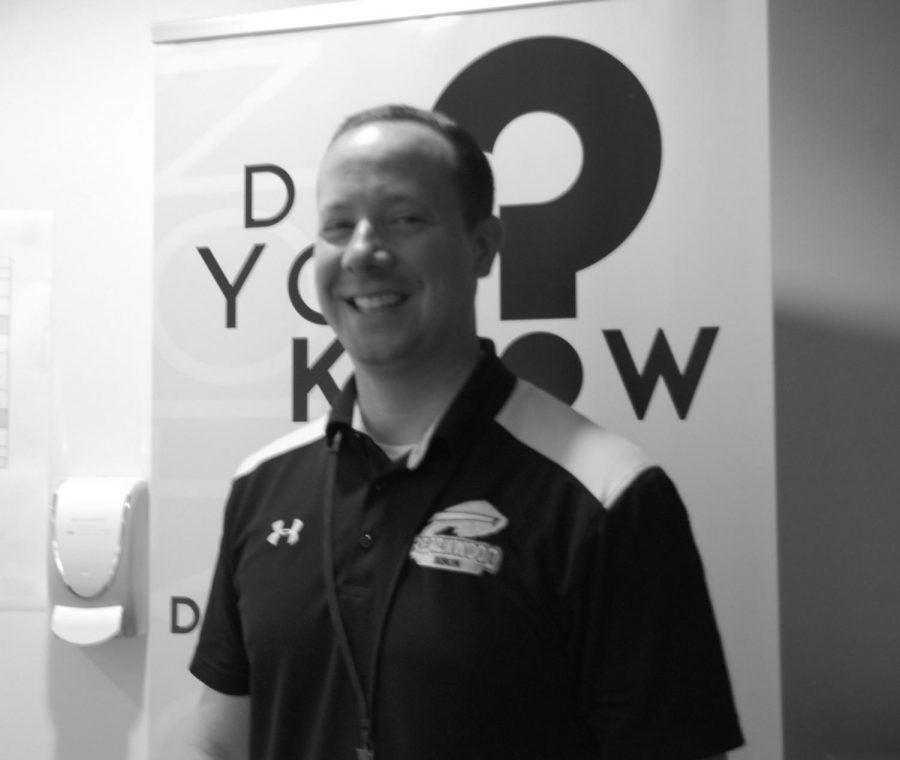 Nakita Reidenbach
Principal Paul Chase has returned to BHS for the 2019-2020 school year.
Chase was previously the middle school principal for six years. Prior to that, he was assistant principal at BHS for seven years.
While he has worked at the high school before, the current building is new to him.
"When I was last here as assistant principal at the end of renovations," Chase said. "We used to have a second floor right above [the 100 hallway]." 
"They tore that whole wing down and [built a new one-story wing, and] students had to walk outside from the downstairs area through the old north gym [which is where the main office is now] to walk to the other side of the building," he added. "But the high school is now the finished product."
Chase also didn't have his own office during the three years of construction.
"I didn't have walls in my office, so I would have to take private phone calls in different teachers' classrooms," he said.
An actual office isn't the only thing Chase is looking forward to, though.
"I'm also looking forward to having the opportunity to get to know students and [making] a difference in their lives," he said. "Sometimes it's actually harder for a principal or assistant principal because we're not in the classroom with students every day."
"There will be key moments when some students just need help, or academic counseling, or a written recommendation, and I think those key moments are something I need to seize on to make a difference in the kid's lives, and I'm excited to make that difference," he added.
Chase also has many plans for the school.
His main goals for students this year are kindness and hard work.
For himself, his goals are running programming, having students build relationships with each other, intercultural awareness, and improving academics.
"[I'm open to] listening to the student body seeing how we can make BHS better," Chase said.
"I want to be completely transparent, [and also] I like having structure with everything I do," he added. "I think if things are consistent on a day-to-day basis, students know what to expect. It makes their day easier."
Chase does not plan to change a lot in his first year, but he does hope to emphasize following-through on the rules. 
Chase also wants to focus on mental health.
"Mental health is really important in any high school in America right now," he said. "I want to make sure students feel safe and happy and make sure that if somebody is struggling, we have resources in place that students are aware of where they can seek out help." 
Chase isn't all about academics, though.
"I love hockey; it's my favorite sport. I grew up playing hockey and I coached hockey at the high school level for a long time," Chase said.
"I [also] collect little cars called micromachines," he added. "I probably have about 6,000 cars. They're about the size of the end of your thumb." 
"I love music, too—My favorite band is a rock band called Chevelle," he added. "I sort of like that 90s grunge rock like Nirvana and a lot of the more modern hard rock like Three Days Grace and Breaking Benjamin."
Chase is really excited for the school year, including having an office with walls.
"I feel blessed to have this opportunity," he said.