English Teacher Evan Luzar to Succeed Hardis as Principal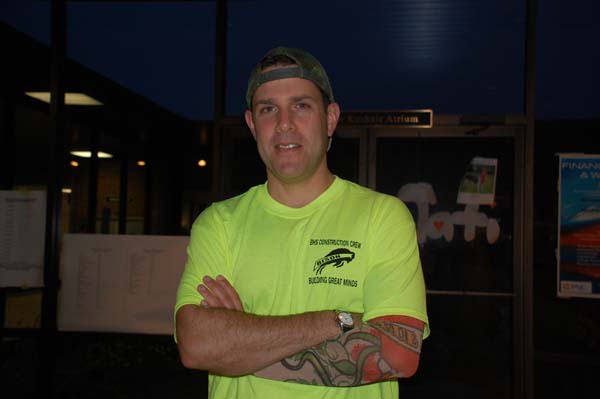 Advertisement
Hang on for a minute...we're trying to find some more stories you might like.
On August 1, 2012, BHS Principal Robert Hardis will be ascending the Beachwood ladder to take on the new role of Assistant Superintendent. This means he will be also leaving behind his position as BHS  Principal. Last month, English teacher Evan Luzar announced he would be applying for the position of Principal.
"Sure, being in charge of the English department is cool, and I sure love nothing more than to bully Pete and Joshie whenever I get the opportunity, but this way I can tell everybody what to do, especially that rowdy Paul Chase. He needs to be put in his place," said Luzar in an interview. He continued, "This is better than my idea for my entertainment company, Prestige Worldwide. Good stuff!"
Not everybody is as happy as Luzar. One English Teacher is especially concerned. He said, "Mr. Luzar's behavior is erratic, but hey, imagine if ol' TButts took over. Then we'd really be in trouble."
An anonymous social studies teacher is also weary of a Luzarian takeover. He wrote in an email, "That man just screams all day long right below my classroom. As if the constant roar of construction isn't enough, I have to deal with his crap all the time. I suppose I could close the window, but of course, then it would be too hot for my classroom to be habitable. Can you imagine him as principal? Classic Beachwood administration."
Since Luzar will be leaving the Beachwood Federation of Teachers to become principal of BHS, there is a lot of debate as to who will take over as union president. Although some sources who wish to be anonymous believe it will be Harvan, one of the science teachers, who for now wishes to be left unnamed, has come out of the shadows to reveal his plot to take over his throne as soon as Luzar takes leave.
"I've never wanted anything more than to be in charge of the Beachwood Federation of Teachers, and now that Big Evan has dropped off, I have the opportunity to restore the group to its former glory. No more crowns, or things mimicking King Lear. Now we're doing things Macbeth style," said the unnamed teacher in a top secret Beachcomber interview.
Former BHS Principal Robert Hardis commented on the ordeal, saying "I'm sure many of the staff and students are quite distraught at my departure, but I assure you all that Mr. Luzar will be a great principal." He continued "Luzar has a lot of potential, and I hope he'll be the guy to stand up to the parents of Beachwood once and for all."
For now, BHS will have to enjoy the time remaining with Principal Hardis. 2012 is a year of change for BHS. A new building, new staff, and now, a new principal. But, as Hardis rides his horse off into the sunset across the street, we all must move on.