Student Takes Pride in Disability Culture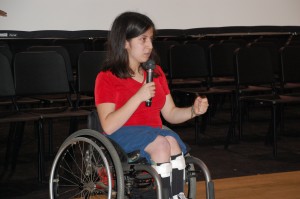 Advertisement
Hang on for a minute...we're trying to find some more stories you might like.
By Eva Muschkin, Staff Writer
During advisory on Wed., June 1st, freshman Ceara Redmond and her mother spoke to the BHS student body about embracing differences through disability culture. Redmond shared her personal experiences as a student in a wheelchair. Her mother expressed the importance of disabled people embracing their identity as "freaks," a word that she suggested could be a badge of pride.
The presentation, a follow-up on the previous week's speaker Marc Elliot, emphasized the differences between tolerance and acceptance. Redmond's message was about being comfortable in your own skin because everyone is different, but that is what creates diversity within a community.
Redmond and her mother discussed acceptance within a larger community and also talked about the richness of disability culture itself. Proven by a show of hands, very few BHS students actually knew what was meant by the term "disability culture." It refers to the art, music, and other creative activities through which people with disabilities express themselves.
Ceara Redmond said, "It's nice to have a place where people with disabilities can all come together and support one another. I am proud of who I am because of these people."
English teacher Josh Davis, who has a son with a disability, said, "I think it's really important that she did that." He continued, "It took a lot of courage, especially for a high school freshman to get up in front of the entire school and take pride in her identity. It does a lot to combat stereotypes and assumptions about people with disabilities."
Junior Matt Levine said, "I give her a lot of credit for doing what she did in front of the whole school because I definitely wouldn't be able to do that."