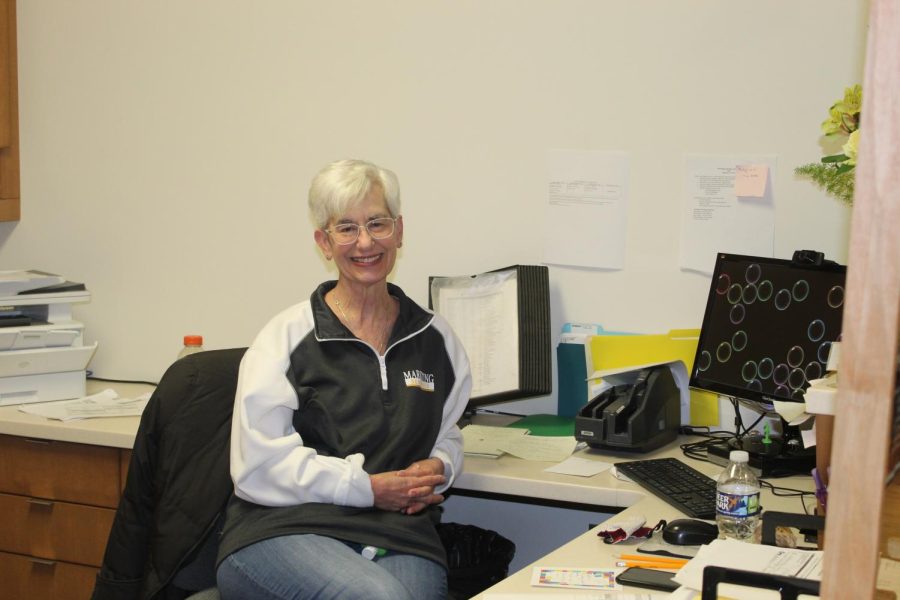 Brooklyn Bennett
For the past 32 years, Lori Joyner has been the first person greeting visitors to the BHS principal's office. Beginning this week, guests to the front office will be welcomed by a new face.
Joyner has kept the high school running through the leadership of eight principals, and while her job description may have been that of secretary, she has taken responsibility for much more than that.
"I have grown into doing a little bit of everything… I have acquired little pieces of a bunch of different jobs," she said. "I have also worked for a few different administrators and they've all needed something different." 
Among other things, she has kept track of staff attendance, found substitutes, monitored the high school budget, processed deposits and purchase orders, coordinated parent-teacher conferences and set up the attendance and gradebook software Infinite Campus. 
Former High School Principal Dr. Ed Klein, who is now Asst. Superintendent in Chardon, explained that Joyner taught him a lot about the software.  
"She is the reason I know Infinite Campus so well today," he said.
Joyner has seen the school environment change dramatically during her time at BHS. Physically, the school  has gone through significant renovations, including most recently, the pool. During the major renovation that began in 2011, Joyner helped keep the school operating through the construction.
"She managed running the school and training a brand-new principal, all while the building was in the midst of construction," Klein said. "Offices moved, teachers shuttled between temporary and permanent classrooms, meetings had to be conducted and schedules built, and Mrs. Joyner kept the wheels moving."
Joyner smiled at this.
"The building looks like it aged way better than I did," she said.
Joyner believes that over her tenure, Beachwood has changed culturally as well. 
"I think we've learned to accept a lot of other things going on in our society and [learned] how to talk about them," she said. "Ten years ago, we tended to ignore a lot of critical conversations, but now we're realizing that we're suffering for not communicating." 
Additionally, Joyner believes that working at Beachwood has made her a better person.
"It has made me so much more aware of different kinds of people, and it's taught me how to communicate with different kinds of people," she said. "I've become a better communicator, and it's taught me to appreciate some of the things that I have and some of the things that I don't have, giving me a lot of perspective."
"Beachwood is just such a huge piece of what I am," she added.
When asked about what her favorite part of her job has been, Joyner asked, "just one?" 
There are many parts of her job that she has greatly valued. 
"I've been really lucky that Beachwood has given me opportunities to do things a bit outside of the normal secretarial support role…for example, the climate action team," she said. 
The climate action team, which Joyner has advised, is a group of students working to raise awareness about climate change with the goal of transitioning Beachwood schools to use 100% renewable energy by 2030.
"…. I have had an opportunity to work with kids in some unbelievable ways," she said. "That's been really nice and tons of fun."
In addition to the climate action team, Joyner has been involved with various student and community activities. One of the events that she organized along with math teacher Jessica Kellogg was the BHS  pumpkin patch.  In 2015, over 200 pumpkins were sold over a period of two days in order to raise class funds for prom and other events. 
"The pumpkin patch was a community favorite," Principal Paul Chase said. "Most years the pumpkins sold out."
"Another thing that I absolutely enjoyed was my relationships with my staff," Joyner said. "They're more like family to me." 
Many of the teachers feel the same way about her. On Dec. 1, the staff held a breakfast for her in which many gave heartfelt speeches about how much she will be missed. 
Spanish teacher Daria Cayne told the Beachcomber that Joyner has always been there for her, for issues in school and in her personal life.
"I love walking into the building and seeing Lori here first thing in the morning," Cayne said. "It brings me comfort and peace of mind."
Joyner made a stained glass teddy bear when Cayne's daughter Camryn was born in 2008, and Camryn still has it hanging in her room.
"Lori is much more than a secretary to me, she is a dear, close friend who has shown me nothing but support and encouragement throughout my time here at BHS," Cayne said.
English teacher Todd Butler also values the friendship he has had with Joyner.
"I was hired in 2002, and Mrs. Joyner was the first voice I heard from Beachwood," he said. "Right from the start we had a really great relationship." 
"Her ability to build rapport and connections, both professionally and personally, was something that made her so welcoming and such a good friend," he added. "I have always been able to count on her whether it was year one or year twenty."
Throughout the administrative and procedural changes that have happened in recent years, Joyner has been a constant.
"My relationship with the staff has been really important," she said. "We've developed a lot of trust and that has had a large impact on how we approach things."
Joyner says that she plans to keep in contact with friends and colleagues.
"Staying in touch with people, I think that that's one of the most important parts of friendship," she said. "As different as lives can get, there are friends who you can just pick up the phone and talk to for hours as though you've never missed a beat." 
"With good friends, you don't have to see them every day, they're still there and a part of your foundation," she added.
After Thanksgiving, Joyner began to train her replacement Amy Schulte, who comes with 16 years of experience as a school secretary in Maple Heights.
"I think it's hard to be able to look at a lot of different systems and software and learn it all, but I have full confidence that Amy will be able to succeed," Joyner said.
"I think the hardest thing is that Amy can't expect to know everything that I have learned in 32 years," she added. "There are people around to help you, and I'm not disappearing…  I am only a phone call away."
And Schulte appreciated the mentorship.
" I'm amazed at how welcoming the staff have been and really grateful that I had five weeks of training," Schulte said. "…She's still supporting me and we've texted just today. It's made my transition here so much easier. I am at step one, but I want to get to where she was with incredible relationships with the staff and the students."
Joyner says it is important to handle things with a sense of humor.
"You just  have to be able to make jokes and to laugh at yourself," she said. "Life is so serious and so intense that you have to find humor in the little things."
"She has been my friend and my mentor," Chase said. "I will miss her and wish her an enjoyable retirement."