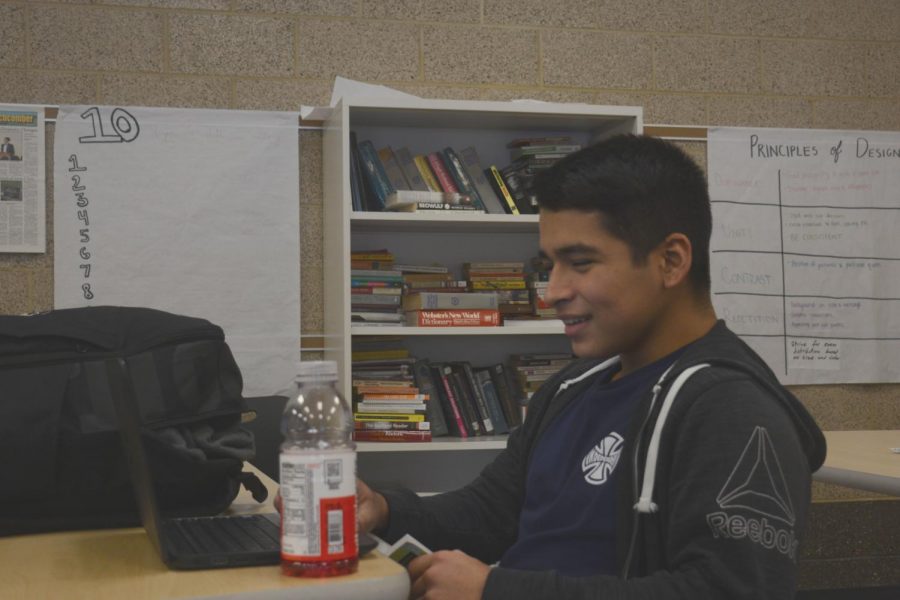 The number of foreign students at U.S. colleges has dropped since 2016, but BHS is lucky enough to have a foreign exchange student this year.
Meet Julian Valdivia, a sophomore at BHS who will return to Chile in June.
Valdivia is from Calle Larga, one of the four communes in the Los Andes Province of central Chile. Calle Larga is a relatively small city near the capital with his mother, father and little brother. His mother works with children with mental disabilities, and his dad is an electrical engineer.
In Chile, Valdivia goes to a small school with approximately 65 students. School starts at 8:30 a.m and ends at 4:30 p.m. Students remain in one classroom the whole day as teachers rotate between classrooms.
According to Valdivia, Beachwood is much more diverse than his commune, and the city is much larger.
"Beachwood is like a part of Cleveland. You can't tell where the cities change," Valdivia said.
In Chile, Valdivia usually goes home after school.In Beachwood, however, he does more extracurriculars, such as football and tech crew for the school play, Peter and the Starcatcher.
"Here, I find myself going out during the day and getting home later in the night," Valdivia said.
Valdivia is staying with sophomore Elizabeth Metz and her family. He has always been independent, which is one of the factors that drove him to become a foreign exchange student.
"I wanted to get better with my English and learn a different culture," he said. "I also wanted to get used to not being with my parents for a long time, kind of like going to college."
Besides the time difference and sudden change in culture, Valdivia loves going to Beachwood.
"I like the number of students because you can meet a lot of different people… you never feel lonely," he said.
Valdivia has encountered some discriminatory and racist incidents while at Beachwood. He recalls a time when somebody called him "taco head" and "beaner," but said that they were just jokes and did not affect him in a malicious way.
Although hosting an exchange student poses certain difficulties, Metz was very open to the idea.
"When you sign up to host, you get to select characteristics of who you want in your home," Metz said. "Julian said he could cook and clean, which my parents really liked. My parents also appreciate that he can speak up for himself and that he's really considerate and always plans things ahead."
Metz became a host because she felt that learning a language is more than just a 50 minute class. It is about the immersion and experience of another culture.
Being an only child, Metz says she initially wasn't used to sharing her things. However, she is slowly adjusting to it, and her Spanish is improving. She feels that meeting Valdivia, speaking with him and learning more about him is a great experience.
Metz believes that Valdivia is fitting in well at Beachwood.
"Julian is thriving. He is finding his group of people," Metz said.
English teacher Josh Davis feels Valdivia is adapting to English extremely well.
"He is doing amazing considering English is his second language. He is funny, has a great personality, and is really determined to learn and adjust to the culture," Davis said.
Since arriving in Beachwood, Valdivia has made many acquaintances and friends.
Sophomore Ian Stender says Valdivia is very fun and outgoing.
"I met Julian during my lunch period when he sat with me one day," Stender said. "Talking to him and getting to know him has been really interesting… he is very easy to talk to."
"Sometimes, when we hang out, he'll point out things that are different here compared to Chile," he added. "I'm really glad I met him because it has really opened up my world."