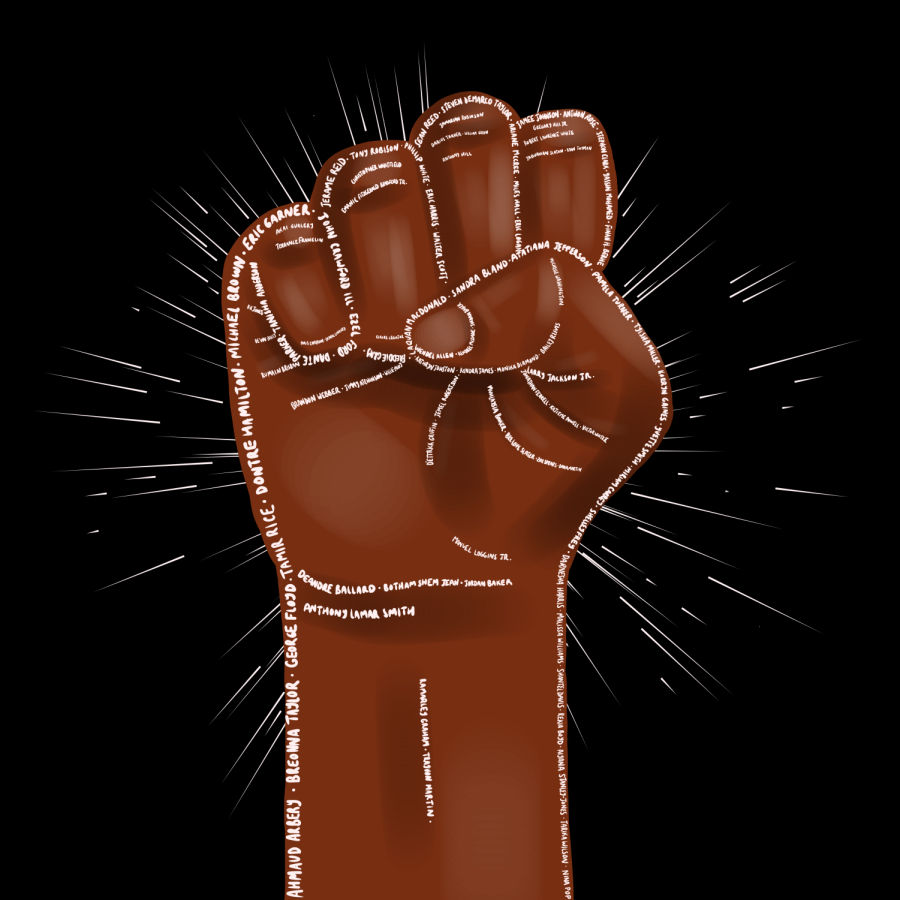 Amy Chen
Nine minutes.
540 seconds.
540,000 milliseconds.
Since May 25, the whole world has watched Derek Chauvin holding his knee on George Floyd's neck for nine minutes. For three of those minutes, Floyd was unresponsive and no longer the "threat" that police perceived him to be. 
We watched as Floyd was completely compliant with the cops. We watched as Floyd was knelt on by three police officers and told by another that he could breathe.
Four police officers against one black man. Who has the power in that situation?
Allegedly using a counterfeit $20 bill shouldn't warrant a death sentence. Nonviolent crimes do not warrant violent consequences. Just ask Derek Chauvin's wife, Kelllie Chauvin, who wrote a bad check in 2005. Why was she properly arrested while Floyd was brutally murdered?
However, this seems to be a common thing. Whenever black people are viciously murdered, it's never "Why?". It's always, "Well, what did he do?"
"Was he resisting?"
"What does his arrest record look like?"
"Maybe if he would have just…"
Why does these questions matter? A man was murdered unjustly using a maneuver that isn't even taught in police academies. That should matter. Police reform should matter. Black lives should matter.
Let's talk about Derek Chauvin. Chauvin had eighteen complaints against him for use of excessive force. Chauvin had also been involved in two other fatal incidents with black men. 
The first was in 2006, as he was one of six officers who fired at 42 year old Wayne Reyes and killed him. 
Two years later, he also fatally shot Ira Latrell Toles, who was 21 at the time, as he was responding to a domestic disturbance call. Finally, in 2011, Chauvin was present when officers shot and killed another suspect.
Tou Thao, the man who stood by as George Floyd begged for his life, had a lawsuit against him for "cruel and unusual punishment" as he and another officer cruelly kicked, punched and stomped on Lamar Ferguson while he was handcuffed and defenseless. 
Both of these officers had a history of excessive force, and Chauvin was known to have killed at least two people before George Floyd. Why wasn't action taken until now? 
Because this time we knew about it.
When you see something and speak up, things get done. The black community has been protesting for years, and yet the black community has to continue to see yet another black man die on camera. However, this time was different.
Within days of the video of George Floyd going viral, many people showed up to the streets of Minneapolis and screamed through the streets for justice. The difference? There was an overwhelming number of non-black protestors. 
As the protesters marched, white people were at the forefront of rubber and wooden bullets, pepper spray, tear gas and much more. 
Allyship is a big motivator for justice. Allies have helped prominent people understand the gravity of the situation, and they have helped propel the black community just a bit closer to justice. 
However, you shouldn't have to beg for allyship. If your non black friends aren't engaged, try to challenge the idea of speaking out,  or only feel as if they can participate as long as they can make some corny Instagram story chain tagging ten people, drop them. Hurt feelings are less important than justice. Black people deserve friends who will stand with them and validate their feelings about the injustices we face in this society. 
Anything less is unacceptable. 
Many people believe the riots and protesting don't work. Many people say that this isn't what Dr. Martin Luther King, Jr.,  or even George Floyd himself would want. Well I have something to say about that.
Unless you've mysteriously brought a Ouija board and been able to contact both men and ask them that question, you don't know. America has been built on protests, and these confrontations have given Americans eight hour work days, freedom from slavery, women's rights and many other things that we wouldn't have if the generations before us were just complicit. These worldwide riots have gotten Derek Chauvin arrested in record time for any police brutality case and moved his case to top priority on a federal level. 
Telling someone how and when to be mad, especially when you haven't been through even half of what they have, is unfair. It's like telling someone to stop crying at a funeral. Like telling someone who's being bullied that it's their fault. Like telling a woman because she wore a skirt, she deserved to be raped. Don't condemn riots if you didn't listen when the protests were peaceful. 
George Floyd woke up on May 25th, unaware that it would be his last day on Earth. Unaware that he would become a harrowing reminder of Eric Garner's final words. Unaware that he would start many conversations in various households and a major uprising for a community. 
George Floyd woke up not knowing that he would change America. 
A man is dead. Now the only question that needs to be asked is: "What can we do now?"
Resources for Activism
Donate to Ohio Bail Funds:
Cleveland Bail Fund
Columbus Bail Fund
Cincinnati Bail Fund
Bowling Green Bail Fund
Canton/Akron Bail Fund
Sign Petitions (Don't Donate!):
"Ban Tear Gas Use in Ohio" Petition
"Time for a Police State Report Card" Petition
"Introducing More Black History/White Privilege into Ohio Curriculum" Petition
"STEP UP Xavier!" Petition
For Protestors:
Lawyer Assisting Arrested Protestors in Ohio Pro-Bono: Taylor Waters, (614)-674-9573
Know Your Rights
Take Action:
Sign Petitions to Demand Justice
Donate to Demand Justice
Text or Call to Demand Justice
Educate yourself:
Yale online course about African American History (Free)
Online Links to Educate Yourself
An Anti-Racist Reading List
Debate Between James Baldwin and William F. Buckley (1965)
The Black Power Mixtape 1967-1975 (Goran Olsson)
13th (Ava DuVernray) – Netflix
Fruitvale Station (Ryan Coogler) – Available to rent