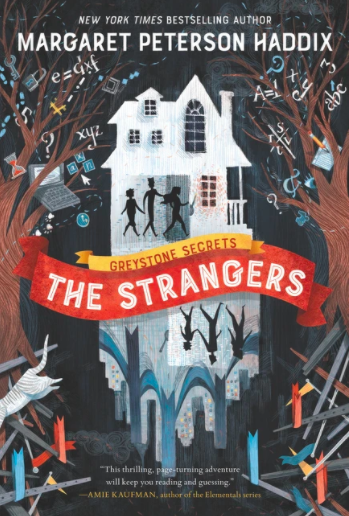 Harper Collins
The Greystone Secrets: The Strangers by Margaret Haddix
You know that age-old story of kids whose mother disappears shortly after a news report of kidnapped kids who look just like them and have the same names?
…Okay, so maybe the plot isn't relatable, but the characters totally are. 
You have Chess, the eldest, who's constantly worried about his siblings. He's the one they all look up to, so he's always worried about guiding them wrong and being a disappointment. 
Then there's Emma, an unapologetic nerd who's proud of who she is, even when that makes her an outcast at school. She's fine with being aloof. She prefers numbers to people, any day. 
Finally, eight-year-old Finn: he's the baby of the family who stays positive even when things look bleak. He's the one who keeps the family together. The one who motivates them. 
The three stick together on this adventure solely because of their sibling bonds, but there is a non-Greystone in the mix: Natalie.
The kids are wary of her at first, given that their mother just vanished and they don't want to trust random strangers, but they slowly warm up to her. She's a fighter who remains resilient in the face of the unknown. So, if you're looking to read a good mystery/sci-fi novel with a cast of characters whom you understand and who would understand you, look no further.
Uglies by Scott Westerfeld
In a world that is only accessible in the pages of  this book, everyone is just ugly–until they're not. At the age of 16, citizens undergo plastic surgery to become beautiful. But as Tally Youngblood finds out, being pretty isn't always worth it, not when the surgery does so much more than affect your appearance… 
This dystopian novel exposes the way we think of others and questions our societal definition of beauty. The main character is a catalyst; she slowly evolves from trusting the customs of her society to realizing its corruption. 
The transition isn't sped up for the sake of plot. It's a fascinating read because of the parallels between the fictional world and our own world. Furthermore, the main character, Tally, isn't a typical dystopian protagonist. 
She doesn't automatically distrust the leaders because her romantic interest said so; instead, she befriends someone and learns through them what the potential of the world really is. She also makes mistakes, and she isn't always the "good guy" (which the book calls her out on) because she sometimes makes selfish decisions and is naive, making an interesting character study. 
Uglies should definitely go on every reading list because it has unique characters, a meaningful plot, and as a work of art that will captivate readers.
Harbor Me by Jacqueline Woodson
Haley and five of her classmates are the dumb kids in the school. They've always been that, or at least, they've always been treated like that. 
This year, they got put in a separate class with a new teacher. And every Friday at the end of the day, she sends them into the library classroom with no teachers (not even her), and they just talk to one another. 
At first there's animosity between the students, but they soon warm up to each other as they tell each other their deepest worries and troubles after finding out one of their fathers might be deported.
This is a must-read. It features a plethora of diverse and meaningful characters, each with a different way of looking at the world and a different way of living in it. They all come from unique backgrounds, and it is uplifting to read about how they each grow through their struggles. 
The book is so real, but it isn't harsh, because while it acknowledges reality, it also pays homage to the power of hope and kindness.
Blended by Sharon Draper
This book tells the tale of a girl named Isabella. She's from a blended interracial family, and is trying to balance both sides of her identity. 
She's trying to regain control over her life as she has to move from her father's house to her mother's house every week and feels as if she's being fought over. 
At the same time, she has to deal with the reality of racism in this country as both she and her best friend undergo terrifying ordeals. 
This book is really well-written as it completely immerses the reader in Isabella's life. As a reader, you get to know every part of her heart and empathize with her. Her sorrow and pain are real and deep, but her hope and joy are inspiring. Furthermore, it's realistic and insightful and takes on topics that are often brushed under the rug. This book is more than just a light read, it's an important read to better understand others and to educate oneself.