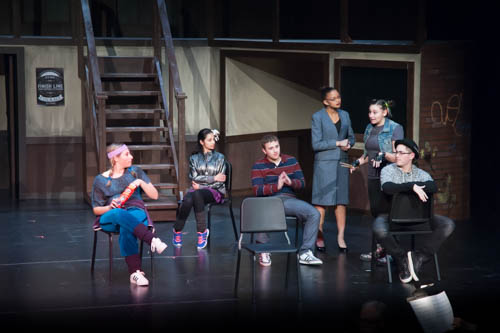 For the first time since the high school renovation began in 2011, the drama club has put on a show in the high school auditorium.
The opening production, the musical Fame!, performed on March 9 and 10, was an appropriate choice to honor the dramatic talents of Beachwood students who finally get to perform in the renovated auditorium.
Newly-hired drama club directors Pat Haynish and Robb Sapp oversaw a talented ensemble cast consisting of high schoolers, middle schoolers and three adult actors. The leads gave strong, emotional performances and were further supported by a talented ensemble.
Fame! The Musical begins with a diverse group of students who have been accepted to the prestigious Performing Arts Academy in New York City.
Miss Esther Sherman, (junior Azariah Burkette) the English teacher, reminds the students that they need to be more than dreamers to make it at this school.
Carmen Diaz (senior Emily Jenks), is the cocky drug-addicted Latina who believes she is too talented to attend or take class seriously.
Countering Diaz is Serena Katz, (sophomore Lexi Glova) who is essentially a "goody two shoes" who dreams of playing a love scene. She falls madly in love with commercial star and fellow student Nick Piazza (sophomore Eric Golovan), who is too focused on school to care.
Another unlikely romance unfolds between Iris (sophomore Joelle Rosenthal), one of the best ballerinas in the school, and Tyrone (senior Gabe Truitt), a dyslexic hip-hop dancer. The two begin a relationship after being paired off to perform in the fall show together.
Another plot line is the band forming between three students in the music program: 'Goody' King (junior Jonathan Slain), Schlomo Metzenbaum (freshman Samuel Roter) and 'Lambchops' (sophomore Jordyn Zawatsky), who combine their unlikely musical interests.
Carmen later joins this band after developing a friendship and partnership with Schlomo. However, her desire to reach instant fame takes her to Los Angeles to work with an agent. She returns humiliated and soon passes away from a drug overdose.
Fame! was held together by its amazing performers. Standing out was Joelle Rosenthal in her performance as Iris. She danced with fluidity, portraying her role as a stuck-up ballerina with grace.
Her intense love affair with Tyrone (Gabe Truitt) was played so realistically it felt as though it were a real relationship.
Other standout performers included Emily Jenks, whose interpretation of Carmen Diaz was outstanding. She placed her own spin on the classic character while simultaneously portraying the intense emotions Carmen felt through the music as well as the acting.
Azariah Burkette's performance of Miss Sherman was also notable, as she revealed a soft spot in the heart of her strict character.
Furthermore, Lexi Glova as Serena Katz and Eric Golovan as Nick Piazza juxtaposed each other's characters well, making their scenes fascinating to watch.
One of the things that made this high school production seem so professional was the set. The moving staircase in which Emily Jenks (Carmen Diaz) performed the classic song Fame! was done skillfully and in an entertaining manner that heightened the song's effect.
The portable banks of lockers that opened also aided in making the show seem lifelike. The set design was exquisitely done, as it looked like a real school of the performing arts, equipped with music stands and ballet bars.
The crew managed set changes smoothly, definitely adding to the show's professional appearance. In addition, the accurate and creative costumes reflected the time period well and were an enjoyable part of the show.
However, one issue that interfered with my enjoyment was inconsistent sound levels. It was difficult to hear what was being said in parts, especially during the group numbers. It was hard to make out the lyrics. It was unclear whether the issue was caused by microphone levels or lack of enunciation and projection on the part of some actors. This caused the production to lose its audience as it was difficult to hear some of the songs. It was also hard to understand the dialogue at times, and therefore, to understand the plot.
Above all, the show was held together by its ensemble. A group of obviously talented teenagers perfectly elevated the quality of the show by putting on entertaining dances and songs. They also made the show feel real as they accurately portrayed high school students.
Social studies teacher Dominic Velotta shined as a strict Eastern-European music teacher Mr. Sheinkapf.
For their first production in the high school auditorium after six years, the drama club did not miss a beat. Every aspect of the show, especially the cast, was professional, and the show was entertaining, eye-opening and enjoyable.