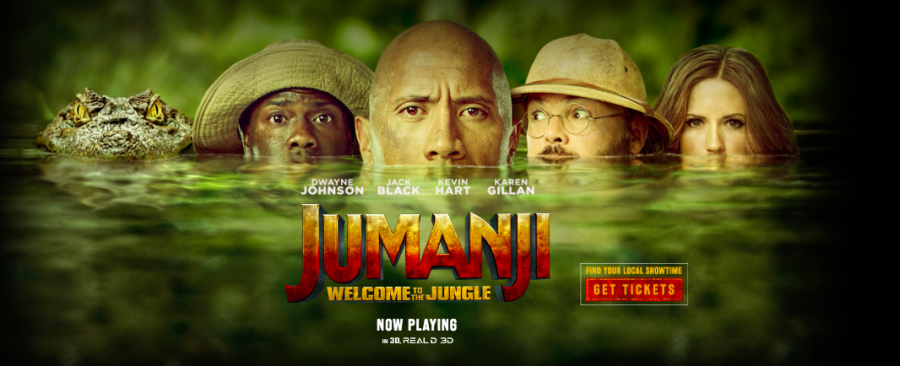 What do you think when you hear the words "Video Game Movie"?
You probably think "Bad," and you wouldn't be wrong, in most cases. The majority of movies based on video games are of low quality.
This is due to the challenges of switching mediums, the writing, or the severe misinterpretation of the game's world, a la Super Mario Bros, released in 1993.
You could say that this is a stereotype for this genre of film. However, Jumanji: Welcome to the Jungle, released in December, succeeds as a video game movie because it puts an emphasis on its characters.
The cast contains four main characters: Spencer, the cowardly nerd; Fridge, the jock who is bad at academics; Martha, the introvert at the bottom of the social barrel; and finally Bethany, the narcissistic blonde-haired popular girl.
You may have noticed something about these characters, and that's because you've seen them before. They are stereotypes. While many may outright assume this is a hallmark of bad writing, bear with me here.
As you may have gathered from the trailers, a magical video game sucks these characters into another world. Each one becomes the avatar they chose, and it just so happens that each avatar is the exact opposite of their personality, flipping the stereotypes on their heads.
By putting these characters out of their comfort zones, the plot kills two birds with one stone. First, it sets up potentially interesting character arcs for all four characters. Second, it sets up numerous comic encounters.
This story mechanic alone would have been pretty neat, and the film executes both of these things extremely well. Each character has to deal with their skills being undermined by the roles they are forced into in Jumanji, allowing them to become more open minded, especially about each other
The movie wins its humor for the same reason. For example, Spencer becomes Dr. Bravestone, the hero with literally no weaknesses. This is comical because Spencer is cowardly and doesn't realize he really has nothing to fear.
In the end, it's a fun action movie with memorable characters and a good message, all in tight execution that is not averse to risk. Jumanji may be a video game movie, but it flips the stereotype on its head.